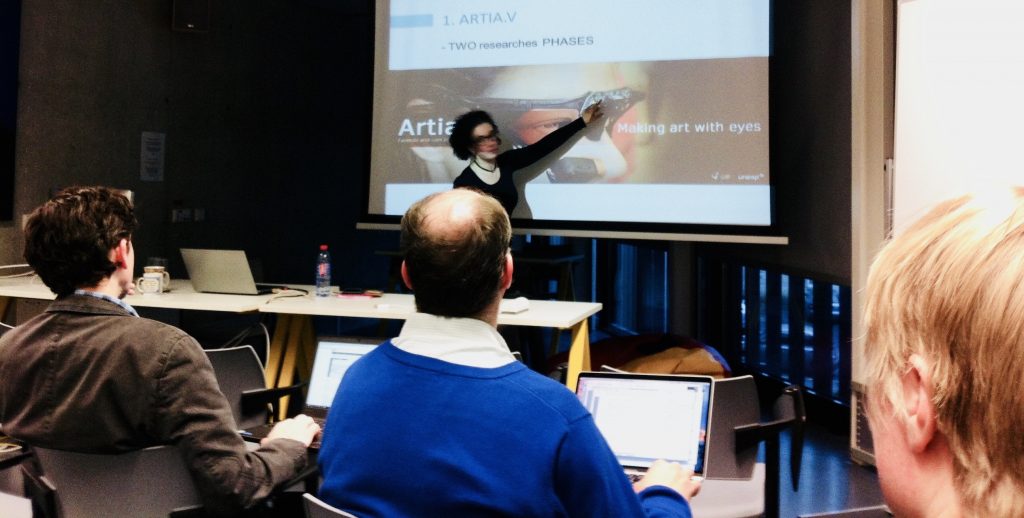 Pia Tikka
Hosana Celeste Oliveira gave a talk @ TLU on her research at the São Paulo State University (UNESP), Institute of Arts São Paulo, Department of Fine Arts, Brazil. Previously she worked in my research team at  Aalto Uni as a visiting research fellow 2016-2017.
Title: Assistive interfaces for the arts: From diffusion to inclusion
In this presentation we introduce the activities carried out in our research group GIIP at São Paulo State University (UNESP, Brazil) focusing on the project "Assistive interfaces for the arts: From diffusion to inclusion". This project brings together the efforts of several researchers from Brazil and Spain. It aims to create low cost and free access assistive interfaces to teach and make art by using reengineering, customization and open source. We will present an overview and some partial results on four prototypes that we developed, such as Kit Facilita, Artia.V, Artia.C, and TECLAUT. The creation process of these prototypes is mainly inspired by the case studies of Samara Andresa Del Monte (journalist) and Dr. Ana Amália Tavares Bastos Barbosa, as well as her teaching method in art education. Dr. Barbosa is artist, art educator and postdoctoral researcher at GIIP, she became the first quadriplegic to obtain a doctorate degree in Brazil.
Hosana Celeste Oliveira
Ph.D. Candidate in Arts, Institute of Arts, São Paulo State University (UNESP, Brazil) Artist and researcher in the field of art, science and technology. She got a bachelor degree in Fine Arts and master in Multimedia, both at UNICAMP (Brazil). Currently, she is PhD candidate in Arts at UNESP, funded by Capes (Ministry of Education of Brazil). She accomplished one year of her doctoral studies at the Media Lab – School of Arts, Design and Architecture of Aalto University (Finland, 2015-2016) under de supervision of Dr. Pia Tikka. She was visiting researcher at KISD (2007-2008), funded by DAAD-STIBET, and at KHM (2009-2010), both in Cologne, Germany. Also, she collaborated with En-Fer Atelier (The Netherlands, 2005-2007) developing web and graphic design projects. Her research agend is built around neuroscientific approaches on perception, emotion, biofeedback interfaces, and embodiment.
Recently Hosana Celeste contributed to the book Projective Processes and Neuroscience in Art and Design ( Advances in Media, Entertainment, and the Arts) (9781522505105): Rachel Zuanon: Books.