On March 30th, Lynda Joy Gerry visited the Innovation Lab at Zürcher Hochschule der Künste (ZhDK) for a workshop entitled "Mimic Yourself."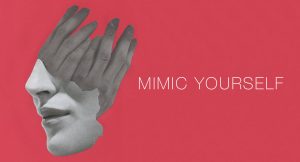 This workshop involved collaborations between psychologists, motion-tracking and capture experts, and theater performers. The performers wore the Perception Neuron motion capture suit within an opti-track system. The data from the performer's motion was tracked onto virtual avatars in real-time. Specifically, the team had used the Structure Sensor depth-field camera to create photogrammetry scans of members of the lab. These scans were then used as the avatar "characters" put into the virtual environment to have the mocap actors' movements tracked onto. A screen was also programmed into the Unity environment, such that the screen could move around the real world in different angles and three-dimensional planes and show different views and perspectives of the virtual avatar being tracked relative to the human actor's movements. Two actors playfully danced and moved about while impacting virtual effects with their tracked motion – specifically, animating virtual avatars but also cueing different sound effects and experiences.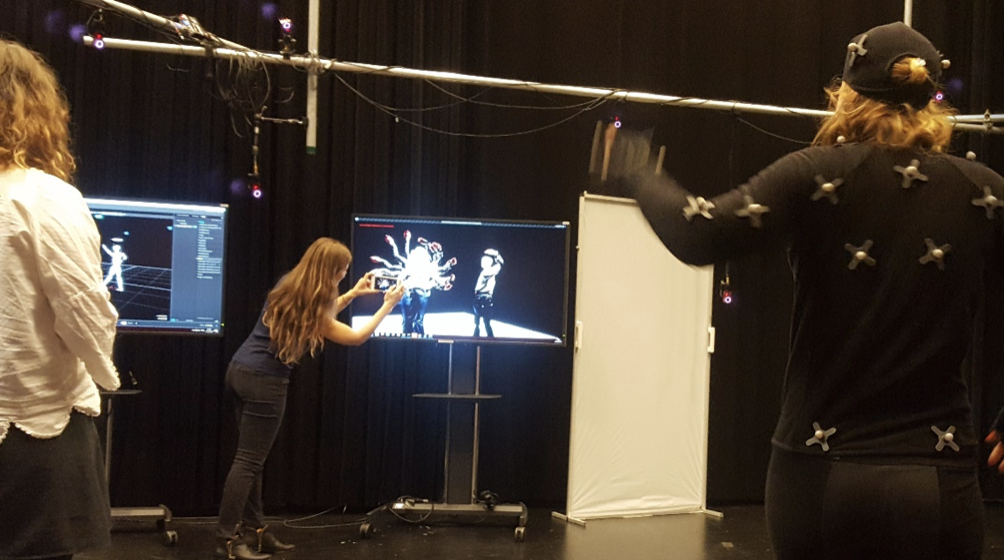 Image above: Motion capture body suit worn by human actor and tracked onto a virtual avatar. Multiple avatar "snap shots" can be taken to create visual effects and pictures. Images below: Creating a many-arm shakti pose with avatar screen captures created through mocap.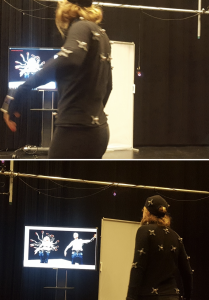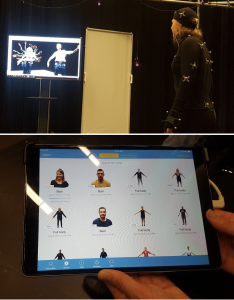 Image above shows examples of photogrammetry scans taken with the Structure Sensor.